FOR MORE INFO OF THE NEW PROJECT IN MCKINLEY WEST LUXURY ESTATES, VISIT THIS SITE:
Formerly JUSMAG property
Showcasing Megaworld's expertise in building large-scale and value-oriented real estate, Megaworld will be launching the today's sought-after enclave McKinleyWest Village. Clearly making it's mark at the country's most promising real estate location – Fort Bonifacio.
In today's economic landscape, properties can prove to be a very reliable investment tool not only by shielding your money from inflation but also by providing income and appreciation in value over time. Megaworld once again provides a winning formula by combining a solid reputation, an excellent location and first-class developments with its upcomingMCKINLEY WEST. McKinley West is another groundbreaking 34.5-hectare mixed-use community development that will host a high-end and exclusive subdivision.

McKinley West Village, adjacent to Forbes Park and Manila Polo Club is your piece of Eden in the heart of the metropolis. Teeming groves of trees greet you in a stunning enclave set right next Bonifacio Global City. At McKinley West, 293 prime residential lots of 180 square meters to 300 square meters are available for the select few. Without a doubt, this is the finest place to build your dream home.




With an estimated price of Php 72,000 to Php 75,000 per square meter, McKinley West Village presents to you the future's haut monde dwelling place. Enjoy the distinguished lifestyle of your community while having everything conveniently within your reach.  Just 5 minutes away from St. Lukes Medical Hospital, SnR Membeship Shopping, The Venetian Mall, Fort Strip, Bonifacio Hi-Street and Serendra for your needs and leisure.

Office Spaces

Commercial Spaces

Residential Condominiums

Open Spaces

20.76 hectares buildable for saleable area

2.02 hectares for recreation/ open space

0.62 hectare for utilities

1.05 hectares for reserved access lots (inside mckinley hill west)

.97  hectare for widening of lawton road 4 lanes each

293 lots in total

180 to 300 square meters lot sizes

Php 72,000 – Php 75,000 per square meter

Reservation Fee:  Php 200,000.00

Contract Price payable in 3 years with 0% interest

Wide Roads
Price Range
Residential Lots
188-545 sqm                                       P110,000-130,000/sqm
Cash and terms available.
Call us at (+63 917) 5443 168
NO  DOWNPAYMENT  payable for 1 year at 0% interest rate.
VIEWING OF MODEL UNITS BY APPOINTMENT ONLY.
(Prices and terms of payment are subject to change without prior notice.)
ST. MORITZ PRIVATE ESTATE
A CLASS OF ITS OWN
THE FINEST OF ULTRA HIGH-END LIVING IN LUXURY RESIDENTIAL ESTATES OF MEGAWORLD'S MCKINLEY WEST
ICON DESIGN BY BROADWAY MALYAN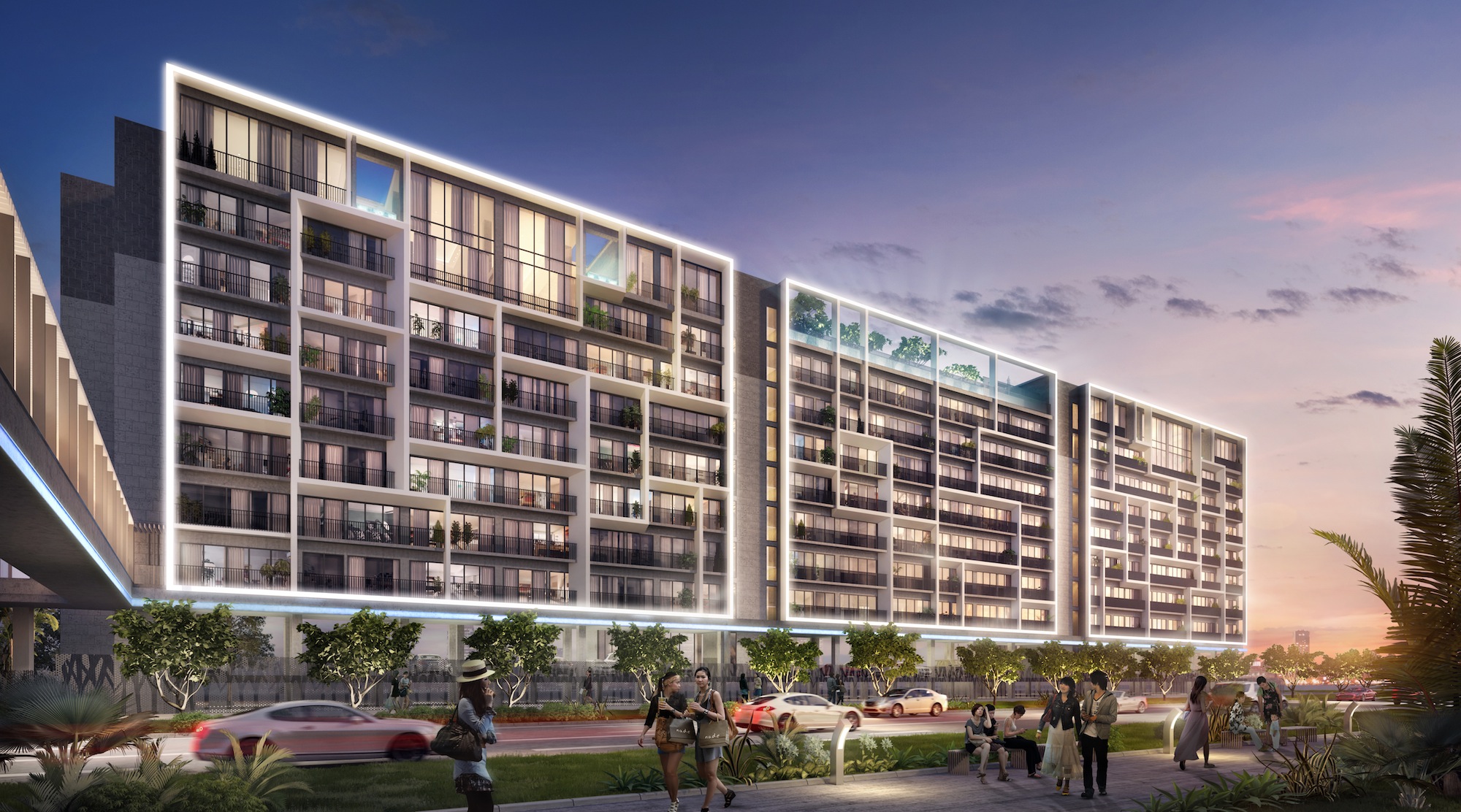 The most exclusive and glamorous address will usher in to grace the luxurious lifestyle of the finest brings out the spirit of nothing but a glittering elegance only known to exist for the privileged few.
This is an ultimate enclave for an heiress who just needs a vast walking closet for her ravishing haute couture gown and shoe collections. Rather, a perfect pad for a stylish gentleman who needs to have a home for his P20-million sports car.
This is the "ultra high-end" living in Mckinley West's luxury residential estates, creating a between innovation and refined tradition as it sets a new benchmark on the way Metro  Manila's A -listers should live.
The pure opulence radiated from the exclusive row of luxury residential estates inside Mckinley West, Megaworld's first ultra high-end community in Fort Bonifacio adjacent to Forbes Park and the Manila Polo Club.
Megaworld brings this exceptional exclusivity in the quiet side of Fort Bonifacio with its own blueprint that has a class of its own, orchestrated by a unique collaboration of the world's leading European architects and designers, and award-winning home innovators.
"Mckinley West's luxury residential estates will deliver luxury beyond expectations as we bring together the master-pieces of Europe's best home and design comapanies" reveals Noli D. Hernandez, senior vice president, Megaworld.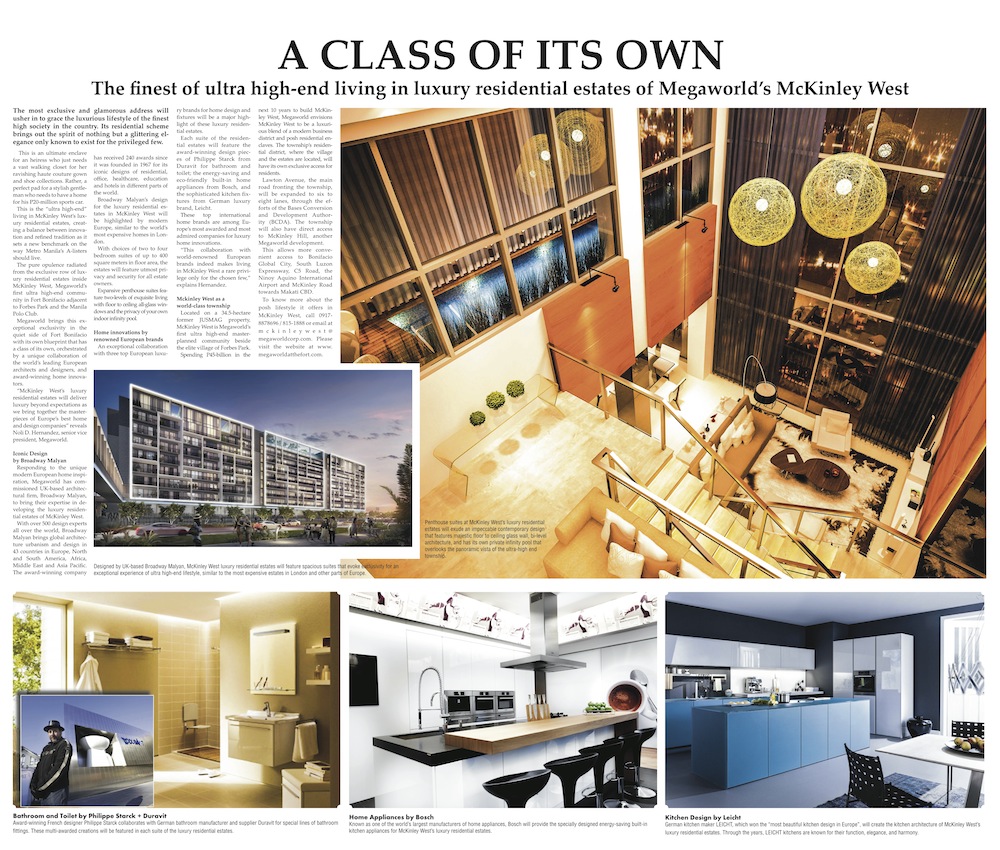 St. Moritz is the newest fort bonifacio condo. Responding to the unique modern European home inspiration, Megaworld has commission UK-based architectural firm, Broadway Malyan, to bring  their expertise in developing the luxury residential estates of Mckinely West.
With over 500 design experts all over the world, Broadway Malyan brings global architecture urbanism and design in 43 countries in Europe, North and South America, Africa, Middle East and Asia Pacific.
The award-winning company has received 240 awards since it was founded in 1967 for its iconic designs of residential, office, healthcare, education and hotels in different parts of the world.
Broadway Malyan's design for the luxury residential estates in Mckinley West will be highlighted by modern Europe, similar tot he world's most expensive homes in London.
With choices of two to four bedroom suites of up to 400 sqaure meters in floor area, this fort bonifacio condo estates will feature utmost privacy and security for all estate owners.
Expansive penthouse suites feature two-levels of exquisite living with floor to ceiling all-glass windows and the privacy of your own indoor infinity pool.
HOME INNOVATIONS BY RENOWNED EUROPEAN BRANDS

Mckinley West Leicht
Mckinley West Bosch
Mckinley West Starck
An exceptional collaboration with three top European luxury brands for home design and fixtures will be a major highlight of these luxury residential estates.
Each suite of the residential estates will feature the award-winning design pieces of Philippe Starck from Duravit for bathroom and toilet; the energy-saving and eco-friendlu built-in home appliances from Bosch, and the sophisticated kitchen fixtures from German luxury brand, Leicht.
These top internation home brands are among Europe's most awarded  and most admired companies for luxury home innovations.
"This collaboration with world-renowned European brands indeed makes living in Mckinley West a rare privilege only for the chosen few," explains Hernandez.
MCKINLEY WEST AS A WORLD CLASS TOWNSHIP
Located on a 34.-hectate former JUSMAG property, Mckinley West is Megaworld's first ultra high-end master-planned community beside the elite village of Forbes Park. Spending P45-billion in the next 10 years to build Mckinley West, Megaworld envisions Mckinley West to be a luxurious blend of a modern business district and posh residential enclaves. The township's residential distrivt, where the village and the estates are located, will have its own exclusive access for residents.
Lawton Avenue, the main road fronting the township, will be expanded to six to eight lanes, through the efforts of the Bases Conversion and Development Authority(BCDA). The township will also have direct access to Mckinley Hill, another Megaworld development.
This allows more convenient access to Bonifacio Global City, South LuzonExpressway, C5 Road, the Ninoy Aquino Internation Airport and Mckinley ROad towards Makati CBD.
Megaworld Corporation is the a huge developer and this project would be the BIGGEST fort bonifacio condo.
ABBE D. NITAFAN ASSISTANT SALES MANAGER
GLOBE: +63917 5443 168
LANDLINE: +6326229685
ABBENITAFAN@GMAIL.COM
CONTACT ME EASIER THROUGH:

                +63917 – 544 – 3168
                         00108085279
                   +63917 – 544 – 3168