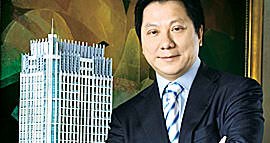 MANILA, Philippines –  The property group of tycoon Andrew Tan, led by Megaworld Corp., is stepping up its homebuilding program next year with the launch of 18,673 residential units with an estimated sales value of P60 billion.
The group is selling more units next year given its bullish outlook on the real estate sector, mainly driven by steady remittances from overseas Filipino workers (OFWs) and stable interest rates. The units will have an aggregate floor area of more than 830,000 square meters.
"The confidence level in the real estate sector is very high. Many investors both here and abroad believe that our country is now moving in the right direction, and we see a surge of investments especially in infrastructure areas, which will open up more growth opportunities not only for the entire economy but also for the real estate industry," Andrew Tan, chairman and chief executive officer of Megaworld, said.
Aside from Megaworld, which caters to the high-end segment of the market, the group comprises Empire East Land Holdings and Suntrust Properties, which focus on medium-cost and affordable housing, respectively.
Megaworld would account for bulk of the total units to be sold in 2011, equivalent to 11,110 units with an aggregate floor area of 372,000 square meters.
Among Megaworld's new projects include One Eastwood Avenue in Eastwood City; 81 Newport Boulevard and 101 Newport Boulevard in Newport City; Viceroy Residences and two new towers of The Venice in McKinley Hill; additional towers of Manhattan Heights and Manhattan Plaza at Manhattan Garden City; Paseo Heights in Makati City; The Palm Bay in Roxas Boulevard; and One Uptown Place atBonifacio Uptown in Ta-guig City ( CLICK TO SEE PROPERTY).
Megaworld also expects to complete more than 600,000 square meters of next- generation office space for the business process outsourcing (BPO) market and additional retail space at its ongoing McKinley Hill, Newport City and CityPlace projects, as well as the upcoming Bonifacio Uptown and other projects in Iloilo and Cebu.
These projects, when completed, will boost Megaworld's rental income to P5 billion by 2012.
Meanwhile, Empire East Land and Suntrust Properties are rolling out P19 billion worth of residential projects in Metro Manila and the fastest-growing centers of Cavite and Laguna next year. These new projects will have a total of 7,500 residential units with an aggregate floor area of more than 466,000 square meters.
To be launched are new phases of Little Baguio Terraces, Rochester Park, Maple Tree Villas, San Lorenzo Place, Pioneer Woodlands, Cambridge Village and Suntrust Parkview, all in Metro Manila, in addition to Sonoma and Suntrust Sta. Rosa Heights in Laguna.
"We have never been this bullish on the property sector, and we look forward to continued bright prospects not only in 2011 but long after that," Tan said.
Megaworld is the developer of five pioneering live-work-play-learn communities in Metro Manila, namely, Eastwood City in Quezon City; McKinley Hill, McKinley West and Bonifacio Uptown in Fort Bonifacio; and Newport City in Pasay City.
When completed, these five mega-communities will be home to around 48,000 families and 202,000 BPO office workers.
Over the last two decades, the Megaworld Group had completed more than 200 residential and office buildings with a total floor area of around 5.4 million square meters.
Source:  www.philstar.com
Written by: Zinnia B. Dela Peña