MANILA, Philippines—Tycoon Andrew Tan plans to invest P20 billion in two major leisure estate communities in Boracay and Tagaytay through newly acquired property unit Global-Estate Resorts Inc. which will focus on tourism-oriented property projects.
GERI, formerly Fil-Estate Land Inc., announced on Thursday the development of Boracay Newcoast in Boracay and Twin Lakes near Metro Tagaytay, both of which are major tourism projects aiming to feature integrated, master-planned and world-class resorts with all the amenities.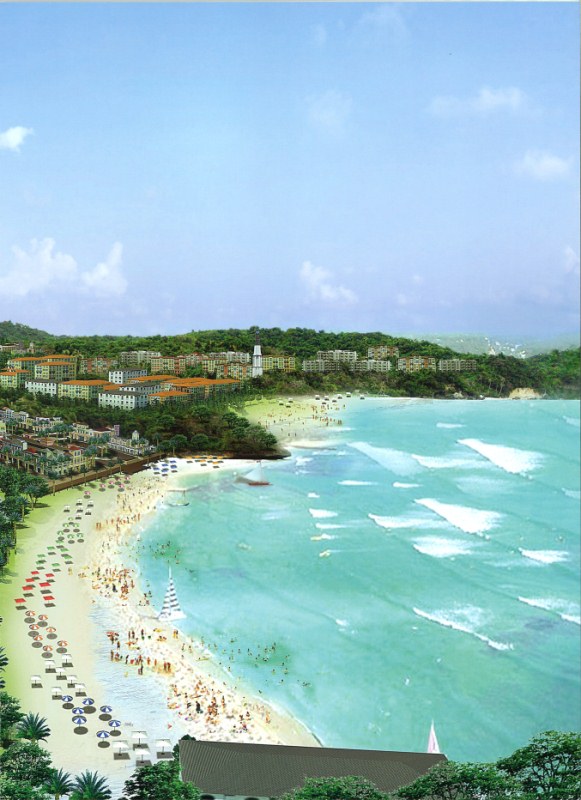 This company, which was recently acquired by Tan's Alliance Global Group Inc., claims to own and control the single largest piece of landbank in Boracay covering 14 percent of the island-resort through a partnership with First Georgetown Ventures Inc., a company owned by businessman George Yang.
The company's Boracay property, which includes an 18-hole championship-grade golf course, is envisioned to be a large-scale tourism-oriented community called Boracay Newcoast.  This project requires an investment of around P15 billion.
"GERI is positioning Boracay Newcoast as a catalyst for Boracay's long-term tourism growth.  In redefining the leisure and holiday experience, the project is set to consistently help attract 350,000 more tourists to Boracay each year," the company disclosed to the Philippine Stock Exchange.
Adding to first-rate accommodations on the island, GERI plans to build four world-class hotels offering a total of 1,500 rooms at Boracay Newcoast.  It has tapped three international hotel brands plus a local brand managed by AGI to operate the hotels.
A key feature of Boracay Newcoast is Newcoast Station, described as an "expansive grand plaza" and entertainment center right at the center of Boracay's famous white beach.  The plaza will be encircled by a luxury hotel block and a retail strip with shops, restaurants and bars.
Boracay Newcoast will also feature specialty and boutique beachfront hotels, a shophouse cluster, private villas with ocean view and a variety of health and wellness centers.
"We believe Boracay Newcoast is in a good position to positively impact Boracay and its residents.  In terms of per capita income, we expect it to more than double from P40,000 levels to beyond P90,000 in the next three years," GERI assistant vice president Alain Sebastian said.
Sebastian said Boracay Newcoast would also support Boracay and the Municipality of Malay's fight against poverty and unemployment.
"We expect Boracay newcoast to help generate at least 3,000 new jobs," he said.
Aklan is targeting to attract a million tourists to the province by 2012 from around 780,000 in 2010.
GERI's second major tourism project, Twin Lakes, is a 1,149-hectare community near Metro Tagaytay.  This P5-billion project is envisioned to be a premier medical and educational tourism destination.
The initial phase of the project, which will overlook Taal Lake as well as its own lake, will feature a vineyard and chateau, a hotel and spa, a shopping village, residential villas and condominiums as well as a sports and country club.
Succeeding phases will include a golf course, a diverse set of residential communities, internaitonal hotels, plantation estate, botanical gardens, lakeview manor, mountain-inspired lodging and facilities, health and wellness centers, boarding schools and retirement villages complete with modern medical amenities.
AGI earlier this year completed the purchase of a controlling stake in Fil-Estate which was renamed GERI.  The new unit is expected to develop over 1,000 hectares of prime land in Boracay, Tagaytay and Nasugbu, Batangas into world-class tourism estates.
Thursday's stockholders meeting of GERI unanimously ratified the issuance of P5 billion worth of common shares to AGI.